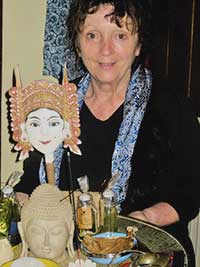 Are you in the process of making a choice about your health? Are you looking for a way to support and strengthen your body - mind - spirit?
Welcome to the beautiful San Lorenzo Valley (SLV) , Santa Cruz County, set amidst the California coastal redwoods, where, since 1992, we have practiced a unique blend of ancient healing arts - Chinese medicine, medicinal herbology, cupping (Gua Sha), massage, breathwork - for the person of the 21st century.
Choosing well may require that you become more aware, not only of your options, but also of the ways in which you choose, the pressures that influence your choices, and what it is that enables you to choose wisely, in spite of stress and fear.
Are you interested in participating in the new/ancient paradigm of holistic health and healing, exploring and experiencing expanded and deeper levels of well-being and understanding and are you looking for someone who can help you?
Ahuti is a pioneer in the body - mind - spirit arena, having committed herself to the process of conscious growth for more than 30 years.
In a safe, sacred space, she is available to create a customized situation for you to find a renewed, authentic place in yourself from where you can receive new dimensions of your well-being on all levels.
To learn more, please visit Ahuti's LinkedIn page.
Contact New Dimensions Acupuncture & Herbology

We are located at 550 Hillcrest Drive, Ben Lomond, California, USA 95005
Ahuti F. Ferid, MS (Germany), MS Chinese Medicine, L.Ac. Dipl. Ac.
For information or appointments please call 831-335-1560
E-mail Ahuti